Hydraulic Insert Press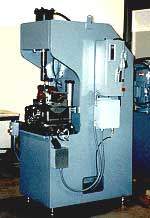 The customer required a method of pressing carbide inserts into complex steel castings. The process required the casting to have movement in the X, Y, and Z directions with rotation about the X and Y axes. TECH designed the machine to meet these specifications, provided drawings and solid models of the parts and assembly for machinists, and delivered the working machine to the customer.

Their original process took over an hour to install 40 inserts into a casting. With the new machine's ease of movement and positioning, that time was reduced to twenty minutes.