Cruizer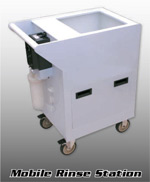 The Cruizer provides a clean recirculating liquid environment for a variety of products and processes. It's designed to accommodate silicon wafers up to 300 mm, multiple cassettes of solar wafers, quartzware, or other process tools. The Cruizer can rinse, hold, wash, and transport products.

Simply fill the tank with water or compatible chemicals, connect the power and in just minutes your portable chemical wash/rinse station is functioning.

Excellent for:

Adding capacity to a current wet process operation
Storing product between processes
Conducting tests
Rapid response
Simulating new processes
Transporting product in a liquid environment
Storing and moving product during a process interruption
The Cruizer's NEMA 4X variable frequency drive allows you to tune the liquid flow to a precise volume.
Power is provided by a high quality Schmitt magnetically coupled centrifugal pump connected to a 120 Volt outlet.
Cruizer's unique styling and rear control design allow for multiple carts to be parked side by side to provide even more functionality.
The Cruizer's modular design allows for options ranging from multiple tanks to ultrasonics. Contact our engineers to discuss your specific application.
Call 888-544-4423 to order!
Wet Processing Tanks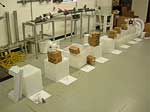 TECH, INC. was asked to redesign multiple wet processing tanks. The tanks were redesigned and modified to handle a different size product than their original design. TECH, INC. designed and fabricated the replacement tanks in-house. This picture shows the tanks staged prior to shipping and installation at the customer facility.